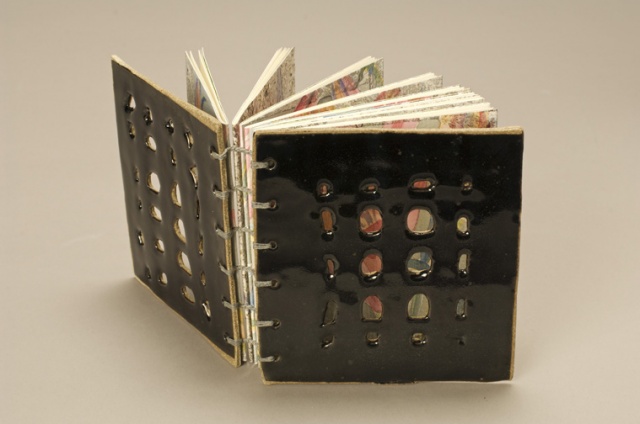 My handmade book combine my interest and experience in drawing and painting, and ceramics. Decorative themes range from leaves and flowers to subjects from my recent travels and studies.
Each journal measures 5 ¾ inches high by 5 ¼ inches wide by 1 ½ inches depth of spine. Each has eight sections composed of three folded blank sheets of cotton paper and a hand painted watercolor and marbled section cover. Book covers vary from ceramic to book board to folded papers. Book board covers are decorated with paste papers with an inset of a ceramic book plate. The sewing is the Coptic stitch using waxed linen thread.
The small books are similar to the journals in use of materials and decorative techniques. They are smaller: 4 inches high by 3 ½ inches wide by ¾ inches depth of spine with four section covers enclosing blank pages. Each has a ceramic cover.
The poem books illustrate lines by my favorite poets. Sizes vary but they measure about 4 inches high by 3 ½ inches wide by 1 inch depth of spine. Covers and section covers are papers decorated with watercolor and marbling whereas the pages are ceramic with words impressed onto the surface.
Photographs on my website by Rick Rhodes.